Revit Drawings (2D & 3D Families)

Simpson Strong-Tie is actively developing new Autodesk® Revit® 3D BIM Models and 2D Detail Components for our product offerings. You can download the models we currently have available, grouped into "families", from the links below. More about Revit software.
Please see the Revit Content Guide included with the family that provides a detail description of the family including additional information about loading and placement of the families into a project. The Revit Content Guide also provides guidance on meta-data and scheduling content provided in the family.
Engineer and Architect Technology Survey
We're conducting research to determine what drawing models will help our customers the most. We'd like to hear from you about what you use and how Simpson Strong-Tie can support your technology needs better.
Download all 2D Detail Component Families | Download all 3D BIM Model Families |
Download all Legacy 3D Families
Expand All Families to See Models

3D BIM Models

2D Detail Components

3D Legacy Models
What is Revit software?

Revit software is a computer-aided drafting (CAD) system which has become the industry standard for architectural drawings. Revit uses intelligent 3D objects called families, (.rfa) files, to represent real physical building components such as walls, doors, windows and connectors to create a 3D model of a project. These families contain graphic and non-graphic information about the components that can be used for design, scheduling and cost estimation. This process produces a Building Information Model (BIM) that can be shared for collaboration between architects, engineers, suppliers and contractors.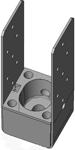 More Revit families to come
Simpson Strong-Tie is aggressively pursuing the development of new families based on customer requests. The needs of our customers are very important to us. Please continue to provide your comments and suggestions for new Revit content.
Request models or more information
We can't guarantee a time frame to complete your request, but we will make every effort to support you. We have made available our previously released 3D families now called Legacy 3D families here. It is our intent to replace these models with new more useful and powerful BIM Families in the near future.
Other 3D formats
Also see Simpson Strong-Tie® Sketchup Models