Simpson Strong-Tie Introduces Free, Web-Based Deck Planner Software™
posted 6/21/17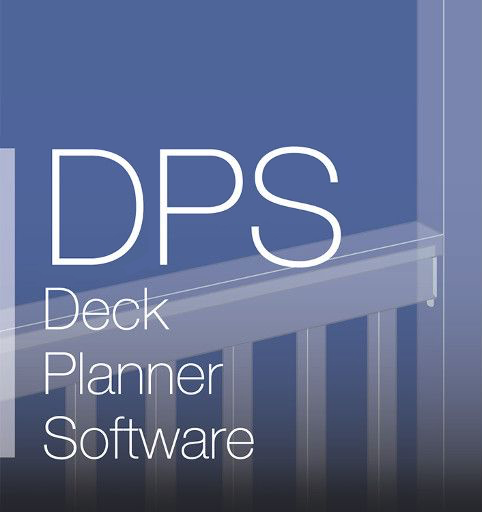 Pleasanton, Calif. – Simpson Strong-Tie, an industry leader in engineered structural connectors and fasteners for decks, has launched Deck Planner Software to help contractors, builders, homeowners, and do-it-yourself enthusiasts design safe, strong and stylish decks with just a few mouse clicks.
The 100% free, cloud-based Deck Planner Software improves the overall deck-building experience by highlighting critical deck connections, and enabling users to select Simpson Strong-Tie® connectors and fasteners, along with products from leading deck board manufacturers, including Trex and Fiberon.
An easy-to-follow, step-by-step menu helps users to design the size, shape and other features of a custom deck. As the design plan is developed, the program offers hardware choices including model numbers, sizes and finish options based on the custom design. Once completed, Deck Planner Software generates a comprehensive report including a materials list, permit submittal pages, additional educational literature, and various 3D plan views.
"Deck Planner Software offers customers an enjoyable deck-designing experience that lets them be in control of the entire development process," said Lydia Poulsen, Product Manager at Simpson Strong-Tie. "This can facilitate productive conversations between homeowners and their contractor and engender greater confidence that the customer is purchasing the right material and hardware for a strong, beautiful deck."
The software is free for all users with no hidden fees, trial periods, downloads, or licenses to manage. At any time during the deck design process, a user can save their progress to revisit at a later date. Users register basic information for log-in purposes that provides them access to saved plans. Reports and materials lists can be shared via email to increase collaboration between contractors, builders and owners.
Unlike similar programs in the marketplace, Deck Planner Software is compatible with all web browsers.
Design your own deck today with the Deck Planner Software by visiting strongtie.com/deckplanner.
---

Build Change and Simpson Strong-Tie Announce Fellowship for Engineering Excellence
posted 5/16/17
International nonprofit Build Change and global structural solutions leader Simpson Strong-Tie announce joint Fellowship for Engineering Excellence

Denver, CO (May 15, 2017) – Build Change and Simpson Strong-Tie announce the Simpson Strong-Tie® Fellowship for Engineering Excellence program and call for applicants.
The Fellowship program is the result of a recent partnership between international nonprofit social enterprise Build Change and global structural solutions leader Simpson Strong-Tie. Complementing the Simpson Strong-Tie goal to find solutions for structures to make them safer and stronger, the fellowship will allow innovative engineers the opportunity to provide impactful contributions to Build Change programs and engineers' professional development in developing nations around the world.
"We are excited about this new partnership with Build Change. The Fellowship for Engineering Excellence provides a unique opportunity to reduce risk from natural disasters by helping to identify and implement innovative solutions for building safer, more resilient structures in emerging countries throughout the world," said Simpson Strong-Tie CEO Karen Colonias.
The fellowship is open to licensed civil and structural engineers with a minimum of six years of professional experience in structural engineering. Applicants should have experience working in earthquake- and wind-resistant design and construction of buildings, and in existing building seismic and structural evaluation and retrofit according to recognized standards, such as the IBC, ASCE 7, ASCE 41, and others. Candidates should be willing to travel to, live, and work in emerging countries in Latin America and the Caribbean, and South and Southeast Asia for a period of one year beginning July 1, 2017 and concluding June 30, 2018.
Applications will be accepted until June 5, 2017. For more information on this fellowship and application instructions, please visit buildchange.org/about/careers.
---

Enhanced Hidden Deck-Fastening System for Premium Decking Delivers Increased Versatility
posted 5/10/17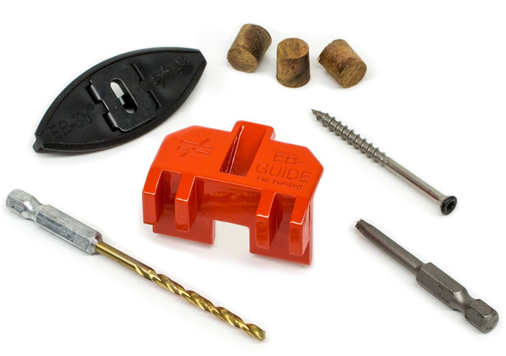 Pleasanton, Calif. – Simpson Strong-Tie, the industry leader in engineered structural connectors and building solutions, has redesigned the award-winning EB-TY® hidden deck fasteners for premium wood decking in both residential and commercial applications. The new EB-TY Premium Hidden Deck-Fastening System™ provides professional builders and do-it-yourselfers a unique method of fastening deck boards that leaves the fasteners virtually invisible.
"With the warmer weather, deck building is ramping up. The new EB-TY Premium Hidden Deck-Fastening System produces not only a more visually appealing deck surface, but one that's extremely strong and durable," said Scott Park, Simpson Strong-Tie senior product manager.
EB-TY® Premium™ is the ideal fastening solution for ensuring structural durability without detracting from the beauty of a deck's finished appearance, especially when working with high-end decking materials such as exotic hardwood, cedar and redwood. The biscuit-shaped fastener installs inside a slot cut in the narrow side of the deck boards, and is reinforced with a stainless-steel plate for enhanced holding power. The steel plate also prevents over-driving of the screw, and has angled screw holes that guarantee a direct connection of the decking to the joist. Along with this added strength, the fasteners also maintain the necessary flexibility to accommodate seasonal contraction and expansion of the deck boards. Combining this innovative design with the EB-GUIDE predrilling guide creates a system that not only has hidden strength, but is also precise and easy to install.
Each EB-TY Premium Hidden Deck-Fastening System kit includes:
EB-TY Premium biscuits
EB-GUIDE predrilling guide
Type 305 or Type 316 #7 stainless-steel trim-head screws with black-painted heads
One-eighth-inch (1/8") impact driver-ready, quick-release drill bit
T-15 6-lobe quick-release driver bit
Ipê wood plugs
For more information about EB-TY Premium, visit strongtie.com/ebtypremium.
---

New, Stainless-Steel Titen HD® Screw Anchor from Simpson Strong-Tie Combines Cutting Ability with Improved Corrosion Resistance
posted 4/25/17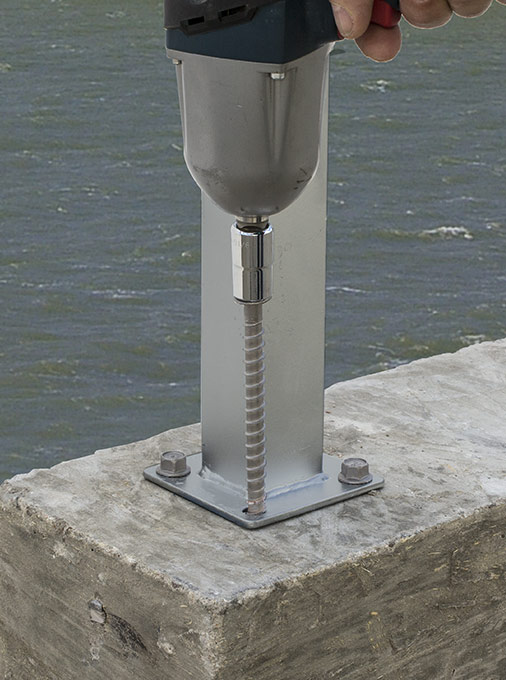 Pleasanton, Calif. – Simpson Strong-Tie, the industry leader in engineered structural connectors, fasteners, anchors and building solutions, has launched the next era of stainless-steel screw anchors for concrete and masonry. The new stainless-steel Titen HD® heavy-duty screw anchor (THDSS) delivers a new standard of performance in exterior applications, even in severely corrosive environments. The introduction of THDSS offers a state-of-the-art screw anchor solution that combines the corrosion resistance of Type 316 stainless steel with the undercutting ability of heat-treated carbon-steel cutting threads.
The THDSS screw anchor's cutting ability comes from a proprietary bi-metal design that uses a carbon-steel helical-coil thread brazed into the shank of the anchor. These serrated carbon-steel threads undercut the concrete allowing subsequent threads to securely interlock with the concrete.
Other stainless-steel bi-metal anchors are made by welding a full carbon segment onto the end of the anchor to facilitate cutting. Over time, however, carbon steel is vulnerable to corrosion, which can cause the steel to expand and crack the surrounding concrete. In the stainless-steel Titen HD, the carbon steel is confined to the helical-coil thread so as to limit concrete damage when it corrodes. For comparison, a 1/2" x 5" THDSS screw anchor contains less than 1% carbon steel while other stainless-steel screw anchors of the same size can contain up to 18% carbon steel.
"The new stainless-steel Titen HD anchor is a game-changer for contractors working in harsh environments," said Corey Clark, product manager, Simpson Strong-Tie. "Prior to this product being available, contractors were largely limited to using wedge anchors or adhesives. Now we have a solution available that is reliable and easy to install."
Key features and benefits of the THDSS screw anchor:
Ideal for exterior applications and corrosive environments
Type 316 stainless steel
Minimized carbon steel for less corrosion expansion
Installs with an impact wrench or a hand tool
For more information about the THDSS screw anchor, visit strongtie.com/titenhdss.
---

Simpson Strong-Tie Recognized as 2016 Vendor of the Year by U.S. LBM
posted 4/21/17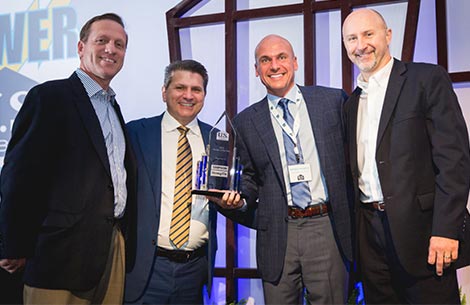 Pleasanton, Calif. – Simpson Strong-Tie, the industry leader in engineered structural and building materials, received the 2016 Vendor of the Year Award from U.S. LBM, one of the largest specialty building materials distributors in the United States, during an annual meeting for U.S. LBM business leaders and contacts in Amelia, Island, Florida.
"We are very honored to be recognized as U.S. LBM's Vendor of the Year," said Roger Dankel, President of North American Sales for Simpson Strong-Tie. "Credit for this award goes to our sales, shipping, and manufacturing teams who work tirelessly to provide exceptional customer service."
Pictured (left to right): Simpson Strong-Tie President of North American Sales Roger Dankel; U.S. LBM President and CEO LT Gibson; U.S. LBM COO Jeff Umonsella; and Simpson Strong-Tie Branch Sales Manager Kevin Dill.
---

New Fence Bracket from Simpson Strong-Tie Installs Easier with Lower Profile
posted 4/19/17
Pleasanton, Calif. – The new, patent-pending FBFZ flat fence bracket from Simpson Strong-Tie, the industry leader in engineered structural connectors and building solutions, makes the connection between rails and posts simple and strong. The flat-plate design, a new addition to the fence bracket line, is fabricated for a concealed look that shows less metal and makes installation easier by eliminating the need for toenailing or screwing.
New, bendable tabs on each end of the bracket allow slight adjustments for attaching wood rails to a post while providing a strong connection to accommodate wood expansion and contraction. The FBFZ also can be used for handrail assemblies on porches and decks that are no more than 30" above the ground. Simpson Strong-Tie recommends that installers, contractors and do-it-yourselfers check with their local building departments to ensure their designs meet the requirements for rail attachments.
"This new, sleek fence bracket will help our customers create strong structures for their outdoor spaces, with a minimal amount of metal showing," said Sam Hensen, Simpson Strong-Tie vice president and general manager for Connectors. "The bendable tabs give them additional adjustability that will save time and money in installation materials."
Key features and benefits of the FBFZ flat fence bracket include:
ZMAX® galvanization for additional corrosion resistance in external applications and with preservative-treated wood.
Flexible holes that accommodate multiple types of fasteners, including nails and Strong-Drive® SD Connector screws.
For installation details, diagrams and more on the FBFZ flat fence bracket, visit strongtie.com/fbfz.
---

Simpson Strong-Tie Launches Updated Strong-Wall® Shearwall Selector Web App for Construction Projects
posted 3/27/17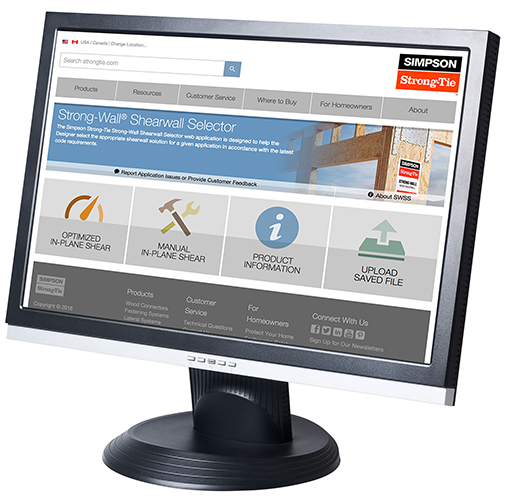 Pleasanton, Calif. – Simpson Strong-Tie, the industry leader in engineered structural connectors and building solutions, has launched a new version of the Strong-Wall® Shearwall Selector web application created to help building designers choose shearwall solutions based on up-to-date building code and product information without having to download additional software.
There are two modes for producing engineered solutions that resist design shear:
Optimized In-Plane Shear – Provides the most cost-effective Strong-Wall shearwall solution(s).
Manual In-Plane Shear – Creates solutions with any combination and quantity of Strong-Wall shearwalls.
Through technical analysis, the Strong-Wall Shearwall Selector provides actual drift and uplift values for a wind or seismic design shear load, while also considering simultaneous, vertically applied loads. Based on user input data, the program performs a rigidity analysis to determine the actual distributed shear to each wall in settings involving multiple aligned walls. In cases with walls stacked vertically, the program evaluates cumulative overturning effects to ensure that neither the wall, the anchor bolt, nor the anchorage to the foundation is overstressed.
The latest release now complies with the 2015 International Building Code by providing information on all three Strong-Wall Shearwall types: the Steel Strong-Wall® Shearwall (SSW); the original wood Strong-Wall Shearwall (SW); and the Strong-Wall Wood Shearwall (WSW) – the latest prefabricated wood wall that provides excellent lateral-force resistance and installation flexibility. Users are able to find specific product information based on application, save output files, and upload output files for future designs.
For information, including details on input variables, solution outputs, and screenshots, visit the dedicated Strong-Wall Shearwall Selector post on the Simpson Strong-Tie® Structural Engineering Blog.
---

Redesigned Foundation Plates Provide Stronger Seismic Retrofit Solutions for Older Homes
posted 3/1/17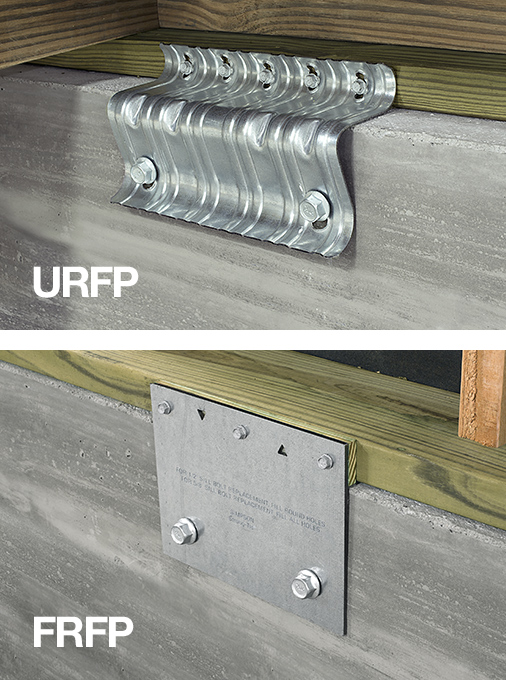 Pleasanton, Calif. – To make it easier for contractors to secure older homes to their foundations, Simpson Strong-Tie has launched two next-generation foundation plates that provide higher strength than before, giving installers greater spacing flexibility when attaching first-floor framing to the foundation.
The URFP and FRFP foundation plates are specifically designed for locations with limited vertical clearance, in basement areas or crawl spaces, where floors are supported directly on the mudsill or a short cripple wall.
The URFP, a new and improved version of the UFP plate, now offers higher strength, serving as a one-for-one replacement for half-inch (1/2") or five-eighths-inch (5/8") diameter mudsill anchor bolts. The URFP fits a variety of foundation types and mudsill offsets and insets – ranging from two and one-half inches (2 1/2") to one-half inch (1/2").
The FRFP is the improved replacement for the FAP. The new design offers higher loads and is ideal where the mudsill is flush to the inside of the foundation (or up to 1 1/2" set back). In addition to the three prescriptive sill plate fastener holes, there are now two optional fastener holes which, when filled, provide increased loads and greater spacing options. With all five holes filled, the FRFP is a one-for-one replacement for 5/8" anchor bolts.
In recent years, FEMA, regulating bodies (like the ICC) and even local jurisdictions have increased awareness of the need for seismic retrofit construction to improve the safety of older homes and buildings in areas that vulnerable to seismic activity. Seismic retrofits help bring older homes closer to the current building codes in earthquake-prone regions.
"The new URFP and FRFP foundation plates make it possible to secure first-floor framing to the foundation," said Sam Hensen, general manager and vice president of Connectors. "The new design increases the load values of the retrofit plates to match the strength of anchor bolts, allowing contractors to have a great solution for increasing the safety of at-risk homes in seismic areas, where tight spaces prevent them from installing bolts."
For more information about the URFP and FRFP retrofit foundation plates, visit strongtie.com/urfp.
---

New, Innovative Moment-Resisting Post Base Offers Greater Design Possibilities for Freestanding Structures
posted 1/31/17

Faster Stud Layout with Innovative Spacer Bracers
posted 1/27/17

Simpson Strong-Tie to Highlight New Products and System Solutions at World of Concrete 2017
posted 1/11/17

Simpson Strong-Tie Company Inc. Announces Acquisition of CG Visions, Inc.
posted 1/10/17

New Products Unveiled at 2017 Builders' Show with Guest Visit from Building Expert and HGTV Star Mike Holmes
posted 1/3/17

New Innovative, Easier-to-Install Rafter Hanger for Roof Framing
posted 11/17/16

New Decorative Hardware Brings Strength and Style to Outdoor Living Structures
posted 11/15/16

New Fastening Solutions for Underlayment and Subfloor Installation
posted 11/1/16

Simpson Strong-Tie Supports Disaster Relief from Hurricane Matthew
posted 10/25/16

Simpson Strong-Tie Wins Platinum in Hanley Wood Brand Builder Awards
posted 9/16/16

Re-Engineered Subfloor Screw Offers Faster Installation
posted 8/23/16

Simpson Strong-Tie Aids Louisiana Flood Relief through Red Cross
posted 8/22/16

Redesigned Drop-In Anchor Provides Easier Installation into Base Materials
posted 8/17/16

Simpson Strong-Tie Receives David Weekley Homes' Coveted "Partners of Choice" Award for 12th Consecutive Year
posted 8/1/16

Simpson Strong-Tie Renews Sponsorship of Habitat Strong Program to Build Stronger, More Resilient Homes
posted 7/11/16

Simpson Strong-Tie Aids Disaster Relief for West Virginia Floods
posted 6/29/16

Simpson Strong-Tie Employees Participate in Habitat for Humanity's Global Village Program in Portugal
posted 6/21/16

New Best Practices of Prefabricated Wood Shearwall Design Webinar for Engineers and Architects
posted 6/15/16

Strong-Wall® Wood Shearwall Wins Innovation Award, Featured at PCBC Show
posted 6/13/16

New Deck Post Solution Provides Easier Installation Using Only Screws
posted 6/6/16

Simpson Strong-Tie Aids Disaster Relief in Ecuador and Texas
posted 6/3/16

New, Redesigned Rebar Carport Saddle Offers Greater Installation Flexibility and New Finishes
posted 6/2/16

New Slide-Clip Connector Provides Easier Way to Attach Framing Anchors to Concrete and Steel
posted 5/31/16

Simpson Strong-Tie® Research and Testing Lab Opens at WSU
posted 5/18/16

Simpson Strong-Tie Joins National Effort to Increase Public Awareness of Hurricane Resilience
posted 5/17/16

Stainless-Steel Deck Screw Now Available in More Sizes and Packaging Options
posted 5/10/16

New Strong-Wall® Wood Shearwall Features Front Access Holdown to Provide Greater Flexibility in Framing Installations and Designs
posted 5/9/16

Simpson Strong-Tie Sponsors ICC's Building Safety Month
posted 5/3/16

New Initiative Sponsored By Simpson Strong-Tie Helps Habitat For Humanity Build More Resilient and Stronger Homes
posted 4/14/16

Simpson Strong-Tie Donation Supports WSU Engineering Research
posted 4/4/16

Steel-Decking Solutions Expanded to Include New Screw and New Quik Drive® System
posted 3/29/16

Popular Deck Screw Now Available in More Colors for Multiple Wood Species
posted 3/18/16

Innovative Concealed Beam Tie Gives Installers New Option for Building Structures without Visible Connections
posted 3/8/16

Simpson Strong-Tie Teams Up with Celebrity Contractor Mike Holmes to Promote Deck Safety Awareness
posted 3/2/16

Simpson Strong-Tie Statement on Proposed Code Change G170-15
posted 2/17/16

Stainless-Steel Composite Screws Provide New Options for Building Decks in Corrosive Environments
posted 2/3/16

New PVC Trim-Board Screw Blends In for Clean Finish, Less Effort
posted 1/28/16

New Collated Connector Nails Broaden Fastener Line and Give Installers Versatile Alternative to Hand-Driven Nails
posted 1/26/16

Simpson Strong-Tie to Showcase New Anchor Solutions and Concrete Repair and Strengthening Systems at World of Concrete
posted 1/25/16

New Framing Screw Offers Code-Approved Alternative to Nails
posted 1/18/16

Simpson Strong-Tie is Five-Time Winner of Annual Do it Best Corp. Vendor of the Year in Building Materials Products Category
posted 1/14/16

New Products Featured at 2016 Builders' Show and Guest Visits from Building Expert and HGTV Star Mike Holmes
posted 1/11/16

Simpson Strong-Tie Acquires EB-TY® and Lumber Loc® Hidden Deck Fastening Systems Product Lines
posted 1/5/16

Versatile Kneewall Connector for Cold-Formed Steel Installs in Both Concrete and Steel
posted 12/15/15

Simpson Strong-Tie Receives Multiple Honors in 2015 Construction Marketing Association STAR™ Awards
posted 12/4/15

Simpson Strong-Tie® DTT1Z Deck Tension Tie Wins 2015 Product Innovation Award
posted 12/1/15

Simpson Strong-Tie Recognized for Gender Diversity in Leadership
posted 11/19/15

Anchoring Systems Product Line Expands with Two New Anchors
posted 11/19/15

New Heavy Hip-Ridge Connectors Offer Greater Design Strength and Flexibility
posted 11/13/15

Simpson Strong-Tie Wins Hanley Wood Brand Builder Platinum Award
posted 11/12/15

New Piston Plug System Makes Adhesive Installation Faster, Easier
posted 11/10/15

New Code Report is First to Include Precured Laminate
posted 11/6/15

Simpson Strong-Tie and Calculated Structured Designs Form Strategic Alliance
posted 11/5/15

Simpson Strong-Tie to Showcase Anchor Systems, Fasteners and Quik Drive® Systems at STAFDA
posted 11/4/15

Simpson Strong-Tie Supports Free National Earthquake Preparedness Summits for Businesses Featuring FEMA Resilience Program
posted 10/29/15

Simpson Strong-Tie Supports Winning Solar Decathlon Project and Other Collegiate Teams with Product and Monetary Donations
posted 10/26/15

Simpson Strong-Tie® Quik Drive® BSD200 Structural Steel-Decking System Wins 2015 Pro Tool Innovation Award
posted 10/9/15

Simpson Strong-Tie to Showcase New Products, Deck Safety Demo at the Remodeling Show and DeckExpo
posted 9/30/15

Products, Resources to Help Build Safer, Stronger Structures Developed in the Decade Since Hurricane Katrina
posted 8/24/15

Simpson Strong-Tie Receives David Weekley Homes' Coveted "Partners of Choice" Award for 11th Consecutive Year
posted 8/3/15

Simpson Strong-Tie Donates $10,000 for Texas Flood Relief
posted 7/1/15

New Web App Identifies Comparable Anchor System Products
posted 6/26/15

Simpson Strong-Tie Supports Construction Trades Education through Local High School Engineering and Construction Academy Partnership
posted 6/24/15

Strong-Tie® Strong-Rod™ Continuous Rod Tiedown System Wins Innovation Award, Featured at PCBC Show
posted 6/22/15

New Strong-Rod™ Systems Offer Seismic and Wind Design Solutions for Light-Frame, Mid-Rise Wood Construction
posted 6/15/15

Simpson Strong-Tie Named Evergreen Preferred Supplier of the Year
posted 5/15/15

Simpson Strong-Tie Sponsors ICC's Building Safety Month
posted 5/13/15

New Diameter on Popular Titen HD® Screw Anchor Offers Optimum Performance in Cracked and Uncracked Concrete
posted 5/12/15

Simpson Strong-Tie Donates $10,000 for Nepal Earthquake Relief
posted 5/7/15

New Strong-Wall® Bracing Selector Web App Makes it Easier to Specify Equivalent Strong-Wall Shearwall Solutions for Wall Bracing
posted 4/20/15

Simpson Strong-Tie Sponsors The Tech Challenge 2015
posted 4/15/15

New DTT1Z Deck Tension Tie Addresses New Code Provision and Offers Method for Attaching Decks to Homes
posted 3/16/15

New Bridging Connector Offers Lower-Cost Option for CFS Stud Construction
posted 3/2/15

Simpson Strong-Tie® Strong-Wall® SB Shearwall Named to Retrofit Magazine's List of Top 50 Products
posted 2/11/15

Simpson Strong-Tie Hosts 60 Local Middle- and High-School Girls in GAINS Program
posted 2/5/15

Simpson Strong-Tie Exhibit at World of Concrete to Feature Timed Product Installation Challenges and New Product Demonstrations
posted 1/27/15

New Deck-Drive™ DCU Composite Screw Versatile for All Types of Composite Decking
posted 1/14/15

New Simpson Strong-Tie® Fasteners and Lateral Systems to be Featured at 2015 Builders' Show
posted 1/8/15

Simpson Strong-Tie Wins Two Construction Marketing STAR Awards
posted 12/19/14

New RPBZ Retrofit Post Base Simplifies Post Reinforcement
posted 12/16/14

Simpson Strong-Tie Wins Do it Best Corp. Vendor of the Year in Building Materials Products Category for Fourth Consecutive Year
posted 12/5/14

New Simpson Strong-Tie Fastener Provides Installers a Faster, Easier and Safer Solution for Pile Construction in Coastal Areas
posted 12/3/14

New Post Caps Designed to Offer More Versatility, Easier Installation
posted 11/24/14

New Code Report for Blue Banger Hanger® Cast-In-Place, Internally Threaded Inserts in Cracked and Uncracked Concrete
posted 11/20/14

Simpson Strong-Tie hits $2 million milestone in donations to Habitat for Humanity
posted 10/29/14

Simpson Strong-Tie® CPTZ Concealed Post Base Named to
This Old House
List of Top 100 Best New Home Products of 2014
posted 10/27/14

Seismic Retrofits Now Provide Earthquake Protection Later
posted 10/14/14

Simpson Strong-Tie to Showcase New Fasteners and Deck Safety Demo at the Remodeling Show and DeckExpo
posted 10/9/14

New Facebook "Power Break" Campaign Features Prize Pack for Construction Industry Professionals
posted 10/7/14

New Steel Deck Diaphragm Web App makes it Easier for Engineers to Design and Evaluate Fastener Solutions for Shear and Uplift Loads
posted 8/19/14

New Simpson Strong-Tie Web App Makes It Easier and Faster to Find the Right Joist Hanger for Each Project
posted 8/5/14

Simpson Strong-Tie Receives David Weekley Homes' Coveted "Partners of Choice" Award for 10th Consecutive Year
posted 8/4/14

Strong Frame® Special Moment Frame Wins Innovation Award, Featured at PCBC Show
posted 6/24/14

New Do-It-Yourself Hardware Kit Makes It Easy to Create Professional-Quality, Customized Home Improvement Projects
posted 6/5/14

SEAOSC Honors Jeff Ellis with "Engineer of the Year" Award
posted 6/5/14

Solar Decathlon Europe Team Builds Multifamily Building with Simpson Strong-Tie® Fasteners
posted 6/3/14

Cold-Formed Steel Structural Building Products Now Included in Software Database Geared Toward Drywall Contractors
posted 5/28/14

Simpson Strong-Tie Introduces New Naming and Product Series to Simplify Fastener Selection
posted 5/21/14

New Post Base Simplifies Installation When Pouring Porch Slabs
posted 5/20/14

Simpson Strong-Tie to Donate $10,000 to Support Tornado Relief Efforts in the South and Midwest
posted 5/5/14

New CFS Designer™ Software Offers Automated Tools and Versatility for Cold-Formed Steel Design
posted 5/5/14

New Strong-Drive® XL Large-Head Metal Screw Makes Fastening Steel Decks Easier, More Efficient
posted 4/22/14

'Built in America' TV Show to Feature Simpson Strong-Tie on April 27
posted 4/18/14

New Hangers Install Over Two Layers of Drywall
posted 4/11/14

New Fully Tested Utility Clip Connectors Offer Versatile, Efficient Installation for Cold-Formed Steel Construction
posted 3/20/14

Simpson Strong-Tie Announces New President and COO
posted 3/18/14

Simpson Strong-Tie Named Vendor Partner by ACDI
posted 2/26/14

New Simpson Strong-Tie Video Highlights Industry-First Testing of FX-70® Structural Repair and Protection System
posted 2/18/14

Simpson Strong-Tie is First Sustaining Organization Member of ASCE Structural Engineering Institute
posted 1/6/14

Simpson Strong-Tie® Exhibit at World of Concrete to Feature Anchoring Products and Repair, Protection & Strengthening Systems
posted 1/2/14

Simpson Strong-Tie Named Sphere 1 Primary/Core Preferred Supplier for Concrete Repair, Protection and Strengthening Products
posted 12/18/13

Simpson Strong-Tie Launches Expanded Literature Library Mobile App
posted 11/20/13

Simpson Strong-Tie Donates $50,000 to Support Philippines Recovery
posted 11/18/13

Simpson Strong-Tie Wins
Architectural Products
' Innovation Award For Strong Frame® Special Moment Frame
posted 11/14/13

Simpson Strong-Tie Supports Habitat For Humanity's Carter Work Project with Jimmy and Rosalynn Carter
posted 11/6/13

Do it Best Awards Simpson Strong-Tie Vendor of the Year in Building Materials Products Category
posted 11/4/13

Simpson Strong-Tie Supports Toronto-Based Hardcore Renos' Build A Home Project with Product Donation
posted 10/30/13

THIS OLD HOUSE Jersey Shore Series Features Simpson Strong-Tie
posted 10/24/13

Simpson Strong-Tie Supports Our American Made Home Project
posted 10/22/13

Simpson Strong-Tie Wins Platinum Award for Best Corporate Blog in Hanley Wood's First Annual Brand Builder Awards
posted 10/18/13

Simpson Strong-Tie Donates More Than $10,000 in Connector and Fastener Products to Solar Decathlon Collegiate Teams
posted 10/10/13

Simpson Strong-Tie Donates $10,000 to Support Colorado Flood Relief
posted 10/9/13

Simpson Strong-Tie® Exhibit at DeckExpo to Showcase New Products, Deck Safety Demo and Fastener Installation Contest
posted 10/8/13

"Buildings At Risk" Summit Brings Stakeholders Together To Mitigate Earthquake Damage
posted 9/30/13

New Field-Trimmable Strong-Wall® SB Shearwall Offers Greater Design Flexibility and Lateral-Force Resistance
posted 9/16/13

Simpson Strong-Tie Continues to Expand Its Technology Offering with New and Updated Web and Mobile Apps and Online Calculators
posted 8/29/13

Simpson Strong-Tie Sponsors Final Phase of Cold-Formed Steel Seismic Tests
posted 8/22/13

Simpson Strong-Tie Employee Jorge Ruiz Introduces President Obama for "A Better Bargain for the Middle Class" Tour
posted 8/20/13

Researchers Test Simpson Strong-Tie® Strong Frame® Special Moment Frame to Validate Seismic Retrofit Solutions for Soft-Story Buildings
posted 8/12/13