Simpson Strong-Tie Increases Production of Truss Plates to Better Serve Customers
posted 10/19/17
Pleasanton, Calif. – Simpson Strong-Tie, the leader in engineered structural connectors and building solutions, announces that it has expanded production of its truss connector plates. This expansion is part of the company's strategy to better serve its customers with increased efficiencies in product manufacturing and delivery.
The company has expanded production in its Stockton, Calif., McKinney, Texas, and Columbus, Ohio, manufacturing facilities, all strategically located to serve customers across the United States. "We know that component manufacturers value choice, quality and prompt delivery, and we are happy that we can accommodate the industry's needs with increased production and efficiency," said CEO Karen Colonias.
The company's Integrated Component Systems product offering includes high-quality, code-listed truss connector plates and Simpson Strong-Tie Component Solutions™ software. Customers also receive comprehensive software training to help them get up and running quickly – minimizing the impact of a technology transition on their business – as well as personalized customer service wherever it's needed, from the office and manufacturing plant to the jobsite and at any point in between.
Component manufacturers in light-frame construction can also leverage the full product line of Simpson Strong-Tie structural connectors and fastening solutions to meet their customers' needs.
To learn more about the Integrated Component Systems product offering, visit Simpson Strong-Tie at BCMC, booth #703, or at strongtie.com/ics.
---

Simpson Strong-Tie to Demonstrate Design and Project Management Software at BCMC
posted 10/12/17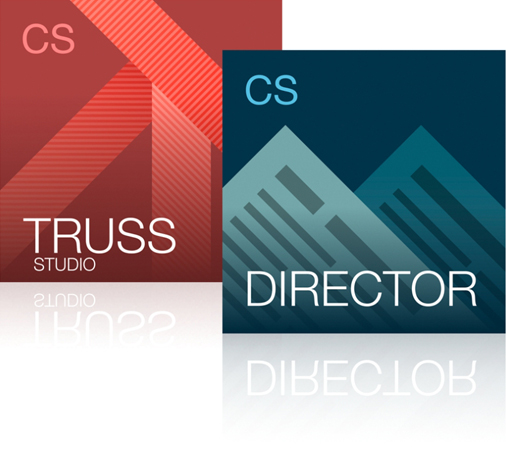 Pleasanton, Calif. – To illustrate their complete light-frame construction product offering for component manufacturers, Simpson Strong-Tie, an industry leader in engineered structural connectors, fasteners, anchors and building solutions, will be showcasing truss design and project management software solutions at the Building Component Manufacturers Conference (BCMC) October 24-26 at the CenturyLink Center in downtown Omaha, Neb.
At their exhibit booth #703, Simpson Strong-Tie will provide attendees with a demonstration of its Component Solutions™ (CS) Truss Studio™ and Director™ software, simple yet robust tools for truss design and project management. Both packages have been designed from the ground up to provide easy and flexible solutions for component manufacturing businesses.
CS Truss Studio software integrates truss design components into a 3D environment that provides dynamic interaction between layout and design. With CS Truss Studio, manufacturers are able to analyze the entire truss layout in a single click while also defining chase openings.
CS Director project management software complements CS Truss Studio by consolidating all project information into a single, central location that can be accessed by both onsite and remote design staff. Using CS Director, manufacturers have the ability to customize the software solutions to their needs by adding products and services to projects, managing workflow and production efficiency, integrating calendars and generating bids quickly.
For additional information about Component Solutions™ software, visit strongtie.com/ics. For more information about BCMC, visit their website.
---

New Fascia-Fastening Solution from Simpson Strong-Tie Delivers Superior Corrosion Resistance
posted 10/10/17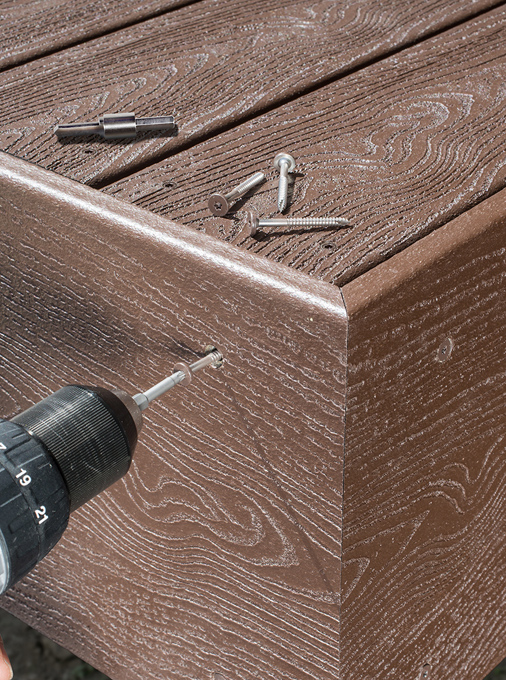 Pleasanton, Calif. – Simpson Strong-Tie, the industry leader in engineered structural connectors and fasteners, has launched the Fascia-Fastening Solution™ that is designed to securely fasten composite and PVC fascia while providing superior corrosion resistance. The Fascia-Fastening Solution accommodates expansion and contraction of installed fascia boards to prevent material failure resulting from exposure to environmental conditions.
The new solution consists of a fascia counterbore bit and a stainless-steel fascia screw. The fascia bit counterbores a hole through the fascia material that is wider than the shank of the fascia screw. The fascia screw is then driven through the predrilled and counterbored fascia material and into the substrate material. Creating a hole wider than the shank of the screw not only enables the screw head to sit flush with the fascia surface, but the extra space allows for future contraction and expansion of composite boards. This process helps contractors prevent failures and reduces jobsite callbacks for head pullover, warping, buckling, mushrooming, broken screws, and loose screws and boards. Installation of the Fascia Fastening Solution requires just a few simple steps and is designed for use with 1/2"- to 3/4"-thick fascia boards.
The fascia screw, sold in quantities of 75, features:
Type-17 point for fast starts
Type 316 stainless steel for severe-level corrosion resistance
Underhead chamber for increased sheer resistance
Low-profile pancake head that resists pullover
Deep T-20 6-lobe recess for fewer cam-outs
Twelve color options for 0.40" heads including white, four shades of tan, two shades of red, three shades of gray and two shades of brown
Size #8 x 1 3/4"
The fascia counterbore bit, sold separately and in single quantities, features:
1/4" arbor size to fit standard drills
0.25" bore diameter
0.41" counterbore diameter
For more information about the Simpson Strong-Tie Fascia Fastening Solution, including detailed installation instructions and diagrams, visit strongtie.com/faciasolution.
---

Simpson Strong-Tie Launches New Microsite for OSHA Silica Dust Regulations
posted 10/4/17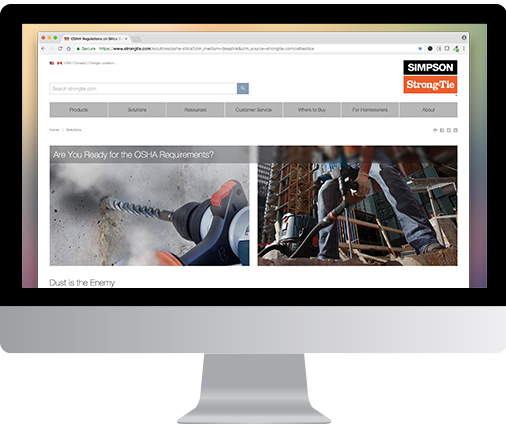 Pleasanton, Calif. – In response to the new Occupational Safety and Health Administration (OSHA) regulations to protect workers from exposure to respirable crystalline silica dust, Simpson Strong-Tie, an industry leader in engineered structural connectors, anchors and fasteners, has launched a new silica dust microsite to help contractors, builders, engineers and other building professionals safely comply with the new construction standards.
Effective September 23, 2017, OSHA has mandated an 80% reduction in jobsite exposure to silica dust, a by-product from drilling into concrete and concrete blocks. Specifically, the mandate entails reducing the permissible exposure limit (PEL) for respirable crystalline silica to 50 micrograms per cubic meter of air, as averaged over an eight-hour work shift.
The new Simpson Strong-Tie microsite is designed to enable users to quickly grasp OSHA's updated requirements via downloadable information and government documents — including a fact sheet, answers to common questions, and direct access to the silica construction regulations in both English and Spanish. Through these resources, building professionals can learn about the programs available to help them meet the stricter criteria, train employees on silica safety and provide flexibility to workers without incurring penalties or citations. The page also directs readers to details about Simpson Strong-Tie OSHA-compliant solutions to silica dust creation, including the Speed Clean™ DXS dust extraction system, compatible and code-listed with both AT-XP® anchoring adhesive and SET-XP® anchoring epoxy.
"Offering the most current resources is a critical initiative for our team as the industry continues to update regulations for safety," said Jeremy Gilstrap, Vice President of Engineering. "When it comes to jobsite protection and regulatory standards, it is essential that information is easily accessed and comprehensible, which is why we decided to offer the regulations in English and Spanish."
Prepare for the new OSHA requirements now by visiting strongtie.com/oshasilica. Additional information on OSHA's silica regulations can be found at osha.gov/silica.
---

New Drift Strut Connector from Simpson Strong-Tie Simplifies Panelized Installation in Cold-Formed Steel Construction
posted 9/26/17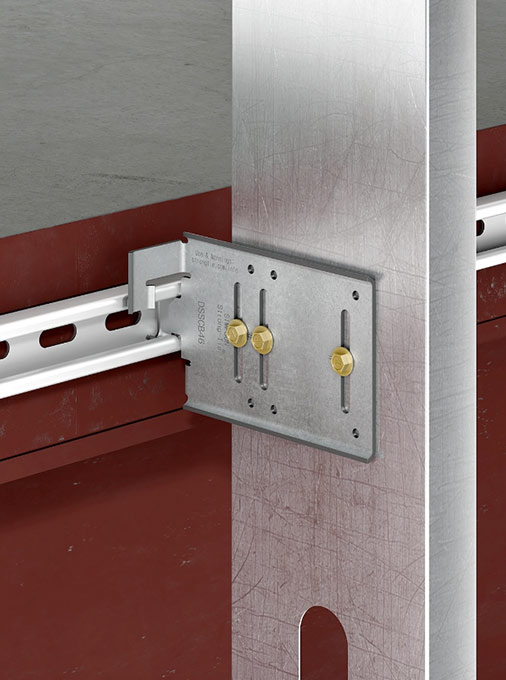 Pleasanton, Calif. – Simpson Strong-Tie, an industry leader in engineered structural connectors and fasteners, introduces the easy-to-install DSSCB bypass framing drift strut connector to support cold-formed steel bypass framing while accommodating horizontal building drift.
The patent-pending DSSCB connector is uniquely formed to friction fit within 13/16" or 1-5/8" commodity strut channels currently in the market place. To install, simply slide the clip into the strut channel and twist.
As a dual-function connector with prepunched slots and round holes for slide-clip and fixed-clip applications, the DSSCB allows contractors to install finished panels while working from the top of the slab without the need to predrill or to preinstall anchors for each clip. Made from 12-gauge steel and tested in accordance with ICC-ES AC261, the DSSCB is available in 3-1/2" (DSSCB43.5), 6" (DSSCB46) and 8" (DSSCB48) lengths. In addition, an optional DSHS drift stopper is sold separately to make framing easier to adjust and lock into place as required.
The prepunched slots provide a full 1" of upward and downward deflection. Precision-manufactured #14 shouldered screws, included with the DSSCB, are designed to prevent overdriving for proper clip functionality, while slot markers ensure perfectly centered screw placement.
Depending on the application and the Designer specifications, struts can be mechanically anchored, welded or cast in place. Design values for the DSSCB and strut channel have been provided in easy-to-use load tables and are based on assembly testing to mitigate risk for Designers.
Learn more about the DSSCB bypass framing drift strut connector, including screw patterns and allowable load tables for fixed and slide clip applications.
---

Simpson Strong-Tie Supports Disaster Relief from Hurricane Harvey
posted 8/30/17
Pleasanton, Calif. – Simpson Strong-Tie, the leader in engineered structural connectors and building solutions, today donated $50,000 to the American Red Cross Disaster Relief Fund to assist Hurricane Harvey relief efforts.
The devastating effects of Hurricane Harvey continue to be felt throughout Houston. Thousands of people remain stranded while Harvey continues its harmful path as a tropical storm, expected to drop historic levels of rainfall in Texas.
The Red Cross has ranked Harvey a Level 7, the highest level of disaster designation within the American Red Cross. The organization has mobilized disaster relief workers, emergency response vehicles and supplies throughout the area while continuously monitoring the situation to provide needed support.
"The number of people affected by this disaster is profound and devastating. We are actively pursuing additional ways we can help locally," said Simpson Strong-Tie CEO Karen Colonias. "We will keep the communities in Texas in our thoughts."
To make a contribution and aid in disaster recovery efforts through the American Red Cross, visit redcross.org or send a donation to your local Red Cross chapter.
---

Simpson Strong-Tie Receives David Weekley Homes Nationally Recognized "Partners of Choice" Award for 13th Consecutive Year
posted 8/28/17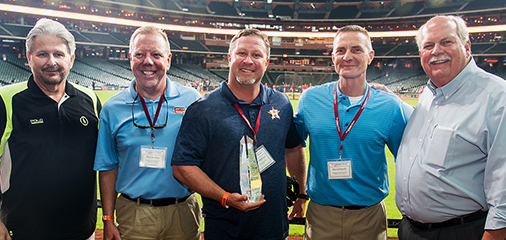 Pleasanton, Calif. – Simpson Strong-Tie, the leader in engineered structural connectors and building solutions, has earned the highest award – an "A" ranking for both quality and service – for the 7th consecutive year from David Weekley Homes, the nation's largest privately held home builder. Simpson Strong-Tie is one of only two companies to receive the prestigious Partners of Choice award – denoting "A" ranking in either quality or service, or both – for all 13 years since the program began.
The Partners of Choice award is part of the David Weekley Homes Supplier Evaluation Platform, a rigorous quarterly review of 200 national trading partners. Approximately 1,000 national team members at all levels within the company participate in the review. Their feedback provides partners an opportunity to evaluate and improve their channel alignment and performance. Survey feedback is offered to suppliers and conducted through a series of individual and group discussions, mentoring calls and strategy sessions to ensure ongoing improvement. The award program honors the suppliers who earn an "A" in quality, service or both within a 12-month period.
"It's just not enough to manufacture a great product anymore," said Bill Justus, Vice President of Supply Chain Services for David Weekley Homes. "Our suppliers have to be aware of the entire 'purchase to installation' process, which means timely and accurate product delivery, providing product training, and identifying any problems within the supply chain. Suppliers' ability to do this well ensures we can build homes more efficiently for our home buyers."
Every supply chain partner is evaluated and measured by the same standards, regardless of their industry or product. At the heart of the evaluation process is the "National Trading Partner Survey," a web-based, interactive feedback platform that tracks employee responses to measure how effectively partners are managing the supply chain. Respondents are asked to rank how each supplier executes in several key areas. The suppliers are given detailed survey results so they can gauge their areas of strength and areas for improvement throughout the year.
"Simpson Strong-Tie is thrilled to receive the 'Partners of Choice' award," says Roger Dankel, President of North American Sales for Simpson Strong-Tie. "To be recognized by a valued partner for quality and service is the highest honor. Providing consistent, reliable customer service and value to our partners is our number one mission. Excellent customer service is what our company was founded on, and we diligently work to achieve that level of quality service with our customers."
---

Simpson Strong-Tie Donates to Clemson University Institute to Support Wood Products Building Industry Advancement
posted 8/8/17

Pleasanton, Calif. – Simpson Strong-Tie, the industry leader in engineered structural connectors and building solutions, announces its support of Clemson University's Wood Utilization + Design Institute with a $50,000 donation.
The Institute brings together foresters, architects, engineers and other building industry professionals to design advances in wood-based products through education and training, product research and development, and development of technical and design solutions.
"Simpson Strong-Tie has been a strong supporter of Clemson University's work in wood construction for many years, with sponsored research, product donations and other projects," said CEO Karen Colonias. "We are pleased to continue our support by funding the Wood Utilization and Design Institute."
A representative from Simpson Strong-Tie will also serve on the institute's advisory board and work with other board members to shape the direction of the institute.
"Clemson's WU+D Institute is delighted to have the support of Simpson Strong-Tie. Innovation in wood products is intimately linked to innovation in fasteners and connections. The support financially and intellectually of Simpson Strong-Tie allows us to be on the cutting edge of the next generation of wood building products and systems," said Patricia A. Layton, director Wood Utilization + Design Institute.
---

New Hanger for Two-Hour Fire-Rated Walls Easily Installs Before Drywall
posted 8/2/17

Compact Metal Post Bracket Makes Connections Strong and Easy to Conceal
posted 7/27/17

Simpson Strong-Tie Expands Habitat for Humanity Support with Increased Habitat Strong Sponsorship and New Local Funding
posted 7/19/17

The Simpson Strong-Tie® Deck-Drive™ DWP WOOD SS Screw Is Now Load Rated
posted 7/12/17

Simpson Strong-Tie to Debut Deck Planner Software™ and More at PCBC in San Diego
posted 6/26/17

Simpson Strong-Tie Introduces Free, Web-Based Deck Planner Software™
posted 6/21/17

Build Change and Simpson Strong-Tie Announce Fellowship for Engineering Excellence
posted 5/16/17

Enhanced Hidden Deck-Fastening System for Premium Decking Delivers Increased Versatility
posted 5/10/17

New, Stainless-Steel Titen HD® Screw Anchor from Simpson Strong-Tie Combines Cutting Ability with Improved Corrosion Resistance
posted 4/25/17

Simpson Strong-Tie Recognized as 2016 Vendor of the Year by U.S. LBM
posted 4/21/17

New Fence Bracket from Simpson Strong-Tie Installs Easier with Lower Profile
posted 4/19/17

Simpson Strong-Tie Launches Updated Strong-Wall® Shearwall Selector Web App for Construction Projects
posted 3/27/17

Redesigned Foundation Plates Provide Stronger Seismic Retrofit Solutions for Older Homes
posted 3/1/17

New, Innovative Moment-Resisting Post Base Offers Greater Design Possibilities for Freestanding Structures
posted 1/31/17

Faster Stud Layout with Innovative Spacer Bracers
posted 1/27/17

Simpson Strong-Tie to Highlight New Products and System Solutions at World of Concrete 2017
posted 1/11/17

Simpson Strong-Tie Company Inc. Announces Acquisition of CG Visions, Inc.
posted 1/10/17

New Products Unveiled at 2017 Builders' Show with Guest Visit from Building Expert and HGTV Star Mike Holmes
posted 1/3/17

New Innovative, Easier-to-Install Rafter Hanger for Roof Framing
posted 11/17/16

New Decorative Hardware Brings Strength and Style to Outdoor Living Structures
posted 11/15/16

New Fastening Solutions for Underlayment and Subfloor Installation
posted 11/1/16