New, Innovative Moment-Resisting Post Base Offers Greater Design Possibilities for Freestanding Structures
posted 1/31/17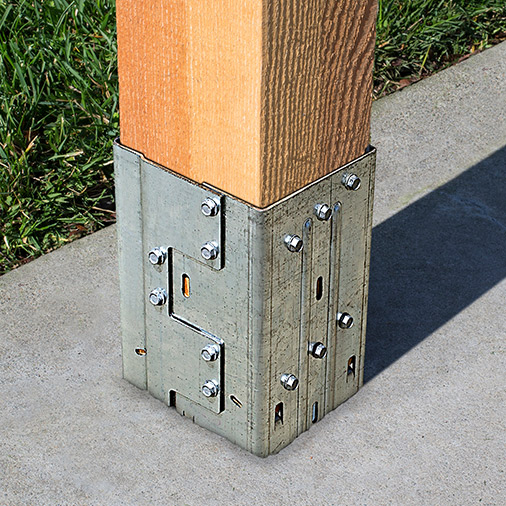 Pleasanton, Calif. – The new MPBZ moment post base by Simpson Strong-Tie, the industry leader in engineered structural connectors and building solutions, is the first product of its kind to provide moment resistance for wooden columns or posts. This innovation reduces the need for knee bracing, providing Designers, contractors and do-it-yourselfers greater design possibilities for outdoor structures.
The patent-pending MPBZ is ideal for freestanding structures such as carports, fences and decks. It features an innovative, overlapping sleeve design, which encapsulates the post, keeping it from rotating around its base when lateral loads are applied from above.
The MPBZ's ability to withstand lateral loads greatly reduces or eliminates the need for diagonal knee bracing to provide more versatility in creating open-air structures with unobstructed views. The product is engineered and tested to save specifiers and contractors time and expense involved in designing, calculating, and ordering custom-fabricated parts.
"Our customers have asked for a moment-resisting product like this for more than 10 years. We're excited to now offer this innovative post base that will expand options for building freestanding outdoor structures," said Sam Hensen, Simpson Strong-Tie vice president and general manager for Connectors. "It's available off-the-shelf, reducing the time and cost of having a part custom fabricated. The product has had extensive testing, so all the load information Designers need is easily available."
Key features and benefits of the MPBZ moment post base include:
Overlapping sleeve design wraps the bottom of the post to resist overturning
One-inch (1") tabs at the bottom to provide code-required post standoff prevents wood rot caused by standing water and ground moisture
Indicators and internal tabs easily identify the required concrete embedment depth
Strategically placed holes simplify installation with template attachment and facilitate post-installation inspection
Optional holes are provided for attaching additional trim material
Weep hole allows for water drainage
ZMAX® coating provides corrosion resistance for exterior and preservative-treated lumber applications
4x4 and 6x6 sizes are available off-the-shelf
Single-piece design facilitates easy installation
For installation information about the MPBZ moment post base, visit strongtie.com/mpbz.
---

Faster Stud Layout with Innovative Spacer Bracers
posted 1/27/17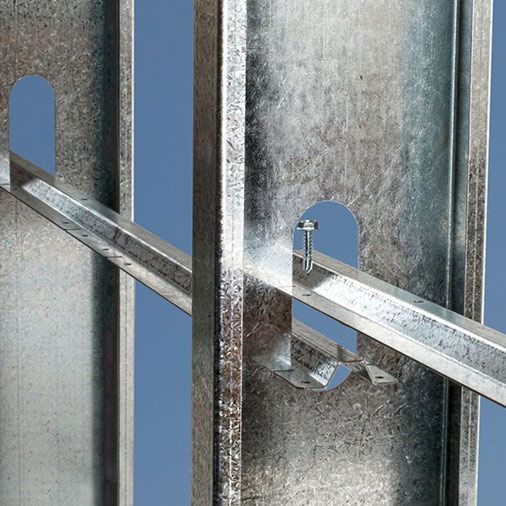 Pleasanton, Calif. – Simpson Strong-Tie, the industry leader in engineered structural connectors and building solutions, introduces the SBR and DBR spacer bracers for cold-formed steel construction. Reducing the need for bridging clips, these spacer bracers enable faster stud layout and reduce the overall installed cost of cold-formed steel stud wall construction.
The DBR is used for interior walls to eliminate stud bow and allow for quicker drywall attachment, while the SBR is designed for structural exterior walls. Both products provide bracing along the length of the stud, and for head-of-wall slip conditions. The SBR and DBR are the only spacer bracers that have load data from assembly testing to mitigate risk for specifiers.
Key features of the SBR and DBR spacer bracers include:
Patent-pending, precision-engineered pre-punched slots strategically located to enable 12", 16" and 24" on-center stud spacing
The SBR accommodates 3-5/8" and 6" studs in thicknesses of 33 mil (20 ga.) through 68 mil (14 ga.)
The SBR's pre-punched holes provide rapid screw installation when spacer-bracer splices are needed for axial load-bearing studs
The DBR accommodates 2-1/2", 3-5/8" and 6" studs in thicknesses of 15 mil (25 ga. EQ) through 33 mil (20 ga.)
In off-layout or end-of run conditions, the hat-section profiles enable clip attachments to the stud with Simpson Strong-Tie® LSSC or RCA connectors
"The SBR and DBR spacer bracers are a complete solution for laying out studs faster," said Randy Daudet, cold-formed steel product manager. "They give Designers the confidence they need in specifying the product while keeping costs under control."
For more information about the SBR and DBR spacer bracers, visit strongtie.com/cfsbracer.
---

Simpson Strong-Tie to Highlight New Products and System Solutions at World of Concrete 2017
posted 1/11/17

Pleasanton, Calif. – Simpson Strong-Tie, the industry leader in engineered structural connectors and building solutions, will showcase new anchor solutions, Repair, Protection and Strengthening (RPS) products and Composite Strengthening Systems (CSS) during the tradeshow on January 17-20 in Las Vegas at booth #O30220.
Tradeshow goers will get a first look at the newest addition to the Simpson Strong-Tie line of Titen HD® screw anchors. Attendees are also invited to compete in a "Drill n' Fill" product installation contest where participants will install an adhesive anchor, a Titen HD concrete screw, three gas-driven fasteners, and a powder-driven fastener. The fastest overall participant throughout the tradeshow will take home the OSHA-Compliant Speed Clean™ Dust Extraction System (DXS), an innovative system that drills faster, eliminates the "blow-brush-blow" hole cleaning process, and more importantly reduces the amount of airborne silica linked to the occupational lung disease known as silicosis. The Speed Clean DXS drilling system features a proprietary bit design that allows dust and debris to be removed through the hollow center of the bit during drilling. By attaching the DXS bit to a rotary hammer and vacuum, the dust is removed the instant it's created, eliminating the need for further cleaning. All participants will receive a Simpson Strong-Tie t-shirt. Alliance partner Robert Bosch Tool Company will provide the power tools.
In addition, Simpson Strong-Tie will feature demonstrations of its RPS and CSS product lines. From custom-manufactured fiberglass jackets to fiber-reinforced polymer (FRP) systems and underwater epoxies, Simpson Strong-Tie offers a variety of structural repair, strengthening, and protection solutions to structures exposed to moisture, corrosion, chemical attack, abrasion, and other destructive forces that plague commercial, industrial, marine, and agribusiness environments. RPS product demonstrations and installations will include:
A 180-gallon tide pool that will simulate the industry first, in-place repair capabilities of the FX-70® Structural Pile Repair and Protection Systems for concrete, timber, and steel structures.
The new RPSInject™ expanding polyurethane injection resins that stop water infiltration through cracks in concrete and masonry
Knowledgeable field representatives and product managers will be on hand to answer questions and facilitate product demonstrations and installations.
For more information and to demo these and other new products from Simpson Strong-Tie, visit booth #O30220 in the outdoor silver lot of the Las Vegas Convention Center.
---

Simpson Strong-Tie Company Inc. Announces Acquisition of CG Visions, Inc.
posted 1/10/17

Pleasanton, Calif. – Simpson Strong-Tie, an industry leader in engineered structural connectors and building solutions and a subsidiary of Simpson Manufacturing Co., Inc., recently acquired CG Visions, Inc., a U.S. company providing BIM (Building Information Modeling) technology, services and consultation to the residential building industry. The strategic acquisition is expected to help Simpson Strong-Tie deepen its partnerships with top builders throughout the country by offering scalable and flexible BIM software solutions to help builders control costs and increase efficiency throughout every stage of the home building process.
CG Visions was started in 2000 by David Bozell, a professor in the Department of Computer Graphics at Purdue University. From 2000-2002, David brought in three other partners, Cory Shively, Scott Schultz and Tim Beckman, to bring new ideas and experience in the digital media and construction fields. The team developed its own BIM and estimation tools and is an established company serving national mid-sized to large production builders in the Top 100.
"We are excited about this new partnership with CG Visions. We're able to provide builders with choices in BIM and estimation solutions to help them increase efficiency at all stages of the development and building process, while strengthening our value proposition of being the trusted provider of building solutions to the construction industry," said Simpson Strong-Tie President of North American Sales Roger Dankel.
CG Visions President David Bozell added, "The team at CG Visions is thrilled that a partnership with Simpson Strong-Tie will bring truly innovative BIM solutions to an already trusted builder partner network, and we plan to strengthen the products and services already in place while exploring innovative ideas from our current and future customers. The emphasis both companies place on exceptional customer service will result in an unparalleled offering to the builder market."
The company's 75 employees will remain at CG Visions' headquarters in Indiana at the closing of the acquisition. Builders interested in working with CG Visions should contact the sales team in Lafayette at 888-988-4BIM.
---

New Products Unveiled at 2017 Builders' Show with Guest Visit from Building Expert and HGTV Star Mike Holmes
posted 1/3/17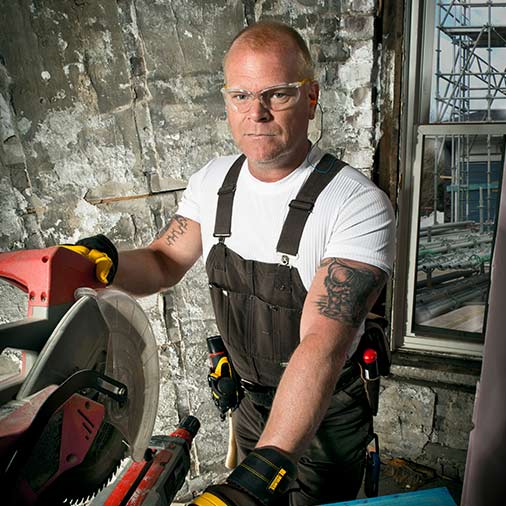 Pleasanton, Calif. – Simpson Strong-Tie, the leader in engineered structural connectors and building solutions, will showcase several innovative and time-saving products at the International Builders Show (IBS) in Orlando, FL, Jan. 10-13. In addition, professional contractor Mike Holmes will visit the Simpson Strong-Tie exhibit on Tuesday in booth W4641.
Simpson Strong Tie products featured at IBS:
Outdoor Accents™ decorative hardware is a new line of screws, washers, angles, straps and post bases that combine strength and beauty for building custom outdoor living structures.
LSSJ is an innovative, field-adjustable jack hanger that makes installation quick and intuitive. It features a one-sided connection point for ease of installation and a versatile, hinged seat.
HHRC is a hip-ridge connector with a higher capacity for heavier hip loads.
Strong-Drive® SDWF Floor-to-Floor screw simplifies the wind-uplift restraint connection, making it faster to install while providing superior performance over the life of the structure.
Strong-Drive® SWDC Truss screw provides a stud-to-bottom plate or stud-to-top plate connection as well as fastening trusses and rafters to top plates.
Strong-Drive® SDWS Framing screw is designed to replace nails. The screw reduces torque and increases holding power making installation faster, easier and more secure.
Strong-Wall® Wood shearwall, a redesigned prefabricated wood shearwall with a new holdown featuring front, side and back access to the anchor templates and bolts, provides greater flexibility for installation and inspection.
URFP universal retrofit foundation plate offers increased loads with the same installation flexibility. It provides a retrofit method to secure the mudsill to the foundation – ideal where there is minimum vertical clearance.
MPBZ moment post base is the first post base specifically designed to provide moment resistance for columns or posts. This patent-pending post base encapsulates the post to help resist rotation around its base.
Mike Holmes, professional contractor and the host and creator of the hit TV series Holmes on Homes®, will be visiting the Simpson Strong-Tie booth on Tuesday Jan. 10 at 11:10 am. Mr. Holmes will be helping to build a project using the new line Outdoor Accents hardware. Simpson Strong-Tie is part of Holmes Approved Products.
---

New Innovative, Easier-to-Install Rafter Hanger for Roof Framing
posted 11/17/16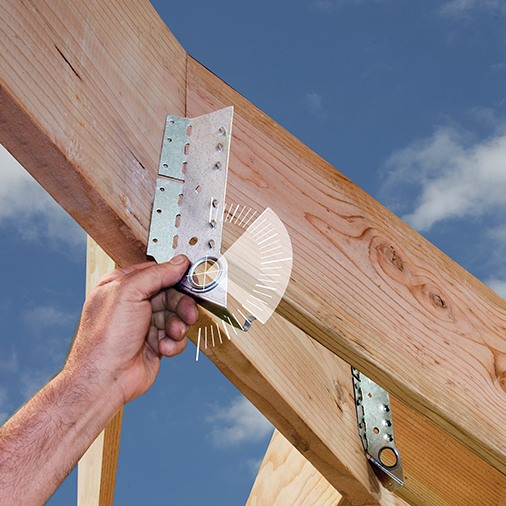 Pleasanton, Calif. – Simpson Strong-Tie, the industry leader in engineered structural connectors and building solutions, introduces an innovative hanger that's easy and intuitive to use for connecting rafters to hip/valley beams in roof framing. The simple design of the Simpson Strong-Tie® LSSJ field-adjustable jack rafter hanger makes installation simple and quick, resulting in lower labor costs.
The LSSJ features a versatile, hinged seat that easily adjusts to typical rafter slopes. The gripper seat frees up a hand for the installer at the time of attachment. The hanger attaches to the open side of the jack rafter for easier fastener placement. The LSSJ can be installed after the rafters are set into place so a framer doesn't have to pause during installation. It can be used in both new construction as well as retrofit applications. The LSSJ is sold in two versions – skewed to the left or to the right – and is available in three sizes.
Key features of the LSSJ jack hanger include:
All nail holes are easily accessible on one side with a hammer or connector pneumatic tool
Gripper seat frees up a hand for the installer during installation
Straightforward design makes installation quick and intuitive, saving time and labor
Flange design allows for skew adjustment from 0° to 45° (ships pre-bent at 45° skew)
"The LSSJ is the next generation of jack hangers for stick-frame roofing and will greatly simplify how framers connect jack rafters," said Sam Hensen, vice president and general manager, Connectors and Lateral Systems. "This highly adjustable hanger gives increased strength to roofing, while offering installers simplicity and savings in the form of reduced labor costs."
For more information about the LSSJ jack hanger, visit strongtie.com/lssj.
---

New Decorative Hardware Brings Strength and Style to Outdoor Living Structures
posted 11/15/16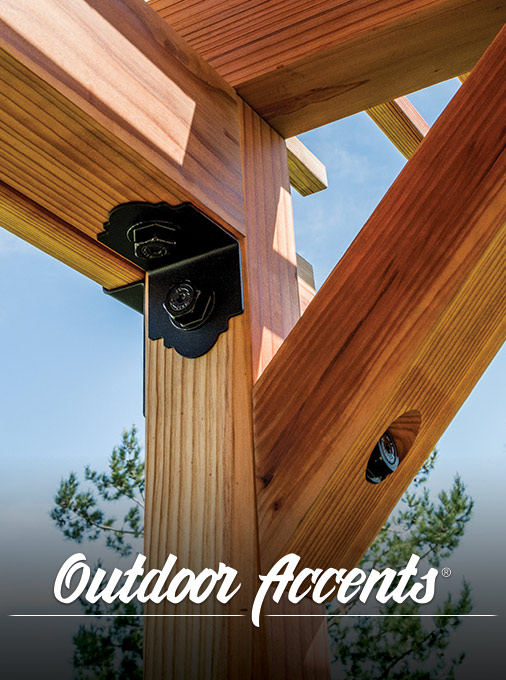 Pleasanton, Calif. – Outdoor Accents® decorative hardware is a new line of connectors and fasteners from Simpson Strong-Tie that provides both design elegance and structural strength to custom outdoor living structures. This load-rated, patent-pending hardware accommodates 4x and 6x lumber sizes, providing the flexibility installers and Designers need when designing and building custom outdoor structures.
The new mission style connectors, which include post bases, strap ties and angles, are made from galvanized steel with a black powder-coat finish for corrosion protection. The fasteners are all exterior rated and also feature a black powder-coat finish.
A key feature of Outdoor Accents is an innovative hex-head washer that is used with a structural wood screw to offer the look of a bolted connection with the installation ease of a screw. The patent-pending design of the washer makes for an easier and significantly faster installation compared to through-bolting. It is code listed (IAPMO UES ER-192) and is designed exclusively to help fasten Outdoor Accents post bases, T and L straps, and angles.
"We are excited to offer our customers such an attractive hardware line that combines easy installation with load strength," said Sam Hensen, vice president and general manager for Connectors and Lateral Systems.
Key features of Outdoor Accents:
Post bases secure wood columns to concrete, while providing a 1" standoff height that helps reduce decay
Flat T and L strap ties bring decorative appeal and lateral strength to outdoor living spaces as well as indoor projects
Fastener and washer create decorative bolt-like connections, but install with the ease of a screw and without predrilling
Structural strength tested and approved to meet stringent building codes for high-wind or seismic conditions
Galvanized steel with a black powder coat provides corrosion protection
Patent-pending design facilitates easy installation
Visit strongtie.com/outdooraccents to watch a video and learn more about Outdoor Accents hardware.
---

New Fastening Solutions for Underlayment and Subfloor Installation
posted 11/1/16

Simpson Strong-Tie Supports Disaster Relief from Hurricane Matthew
posted 10/25/16

Simpson Strong-Tie Wins Platinum in Hanley Wood Brand Builder Awards
posted 9/16/16

Re-Engineered Subfloor Screw Offers Faster Installation
posted 8/23/16

Simpson Strong-Tie Aids Louisiana Flood Relief through Red Cross
posted 8/22/16

Redesigned Drop-In Anchor Provides Easier Installation into Base Materials
posted 8/17/16

Simpson Strong-Tie Receives David Weekley Homes' Coveted "Partners of Choice" Award for 12th Consecutive Year
posted 8/1/16

Simpson Strong-Tie Renews Sponsorship of Habitat Strong Program to Build Stronger, More Resilient Homes
posted 7/11/16

Simpson Strong-Tie Aids Disaster Relief for West Virginia Floods
posted 6/29/16

Simpson Strong-Tie Employees Participate in Habitat for Humanity's Global Village Program in Portugal
posted 6/21/16

New Best Practices of Prefabricated Wood Shearwall Design Webinar for Engineers and Architects
posted 6/15/16

Strong-Wall® Wood Shearwall Wins Innovation Award, Featured at PCBC Show
posted 6/13/16

New Deck Post Solution Provides Easier Installation Using Only Screws
posted 6/6/16

Simpson Strong-Tie Aids Disaster Relief in Ecuador and Texas
posted 6/3/16

New, Redesigned Rebar Carport Saddle Offers Greater Installation Flexibility and New Finishes
posted 6/2/16

New Slide-Clip Connector Provides Easier Way to Attach Framing Anchors to Concrete and Steel
posted 5/31/16

Simpson Strong-Tie® Research and Testing Lab Opens at WSU
posted 5/18/16

Simpson Strong-Tie Joins National Effort to Increase Public Awareness of Hurricane Resilience
posted 5/17/16

Stainless-Steel Deck Screw Now Available in More Sizes and Packaging Options
posted 5/10/16

New Strong-Wall® Wood Shearwall Features Front Access Holdown to Provide Greater Flexibility in Framing Installations and Designs
posted 5/9/16

Simpson Strong-Tie Sponsors ICC's Building Safety Month
posted 5/3/16

New Initiative Sponsored By Simpson Strong-Tie Helps Habitat For Humanity Build More Resilient and Stronger Homes
posted 4/14/16

Simpson Strong-Tie Donation Supports WSU Engineering Research
posted 4/4/16

Steel-Decking Solutions Expanded to Include New Screw and New Quik Drive® System
posted 3/29/16

Popular Deck Screw Now Available in More Colors for Multiple Wood Species
posted 3/18/16

Innovative Concealed Beam Tie Gives Installers New Option for Building Structures without Visible Connections
posted 3/8/16

Simpson Strong-Tie Teams Up with Celebrity Contractor Mike Holmes to Promote Deck Safety Awareness
posted 3/2/16

Simpson Strong-Tie Statement on Proposed Code Change G170-15
posted 2/17/16

Stainless-Steel Composite Screws Provide New Options for Building Decks in Corrosive Environments
posted 2/3/16

New PVC Trim-Board Screw Blends In for Clean Finish, Less Effort
posted 1/28/16

New Collated Connector Nails Broaden Fastener Line and Give Installers Versatile Alternative to Hand-Driven Nails
posted 1/26/16

Simpson Strong-Tie to Showcase New Anchor Solutions and Concrete Repair and Strengthening Systems at World of Concrete
posted 1/25/16

New Framing Screw Offers Code-Approved Alternative to Nails
posted 1/18/16

Simpson Strong-Tie is Five-Time Winner of Annual Do it Best Corp. Vendor of the Year in Building Materials Products Category
posted 1/14/16

New Products Featured at 2016 Builders' Show and Guest Visits from Building Expert and HGTV Star Mike Holmes
posted 1/11/16

Simpson Strong-Tie Acquires EB-TY® and Lumber Loc® Hidden Deck Fastening Systems Product Lines
posted 1/5/16

Versatile Kneewall Connector for Cold-Formed Steel Installs in Both Concrete and Steel
posted 12/15/15

Simpson Strong-Tie Receives Multiple Honors in 2015 Construction Marketing Association STAR™ Awards
posted 12/4/15

Simpson Strong-Tie® DTT1Z Deck Tension Tie Wins 2015 Product Innovation Award
posted 12/1/15

Simpson Strong-Tie Recognized for Gender Diversity in Leadership
posted 11/19/15

Anchoring Systems Product Line Expands with Two New Anchors
posted 11/19/15

New Heavy Hip-Ridge Connectors Offer Greater Design Strength and Flexibility
posted 11/13/15

Simpson Strong-Tie Wins Hanley Wood Brand Builder Platinum Award
posted 11/12/15

New Piston Plug System Makes Adhesive Installation Faster, Easier
posted 11/10/15

New Code Report is First to Include Precured Laminate
posted 11/6/15

Simpson Strong-Tie and Calculated Structured Designs Form Strategic Alliance
posted 11/5/15

Simpson Strong-Tie to Showcase Anchor Systems, Fasteners and Quik Drive® Systems at STAFDA
posted 11/4/15

Simpson Strong-Tie Supports Free National Earthquake Preparedness Summits for Businesses Featuring FEMA Resilience Program
posted 10/29/15

Simpson Strong-Tie Supports Winning Solar Decathlon Project and Other Collegiate Teams with Product and Monetary Donations
posted 10/26/15

Simpson Strong-Tie® Quik Drive® BSD200 Structural Steel-Decking System Wins 2015 Pro Tool Innovation Award
posted 10/9/15

Simpson Strong-Tie to Showcase New Products, Deck Safety Demo at the Remodeling Show and DeckExpo
posted 9/30/15

Products, Resources to Help Build Safer, Stronger Structures Developed in the Decade Since Hurricane Katrina
posted 8/24/15

Simpson Strong-Tie Receives David Weekley Homes' Coveted "Partners of Choice" Award for 11th Consecutive Year
posted 8/3/15

Simpson Strong-Tie Donates $10,000 for Texas Flood Relief
posted 7/1/15

New Web App Identifies Comparable Anchor System Products
posted 6/26/15

Simpson Strong-Tie Supports Construction Trades Education through Local High School Engineering and Construction Academy Partnership
posted 6/24/15

Strong-Tie® Strong-Rod™ Continuous Rod Tiedown System Wins Innovation Award, Featured at PCBC Show
posted 6/22/15

New Strong-Rod™ Systems Offer Seismic and Wind Design Solutions for Light-Frame, Mid-Rise Wood Construction
posted 6/15/15

Simpson Strong-Tie Named Evergreen Preferred Supplier of the Year
posted 5/15/15

Simpson Strong-Tie Sponsors ICC's Building Safety Month
posted 5/13/15

New Diameter on Popular Titen HD® Screw Anchor Offers Optimum Performance in Cracked and Uncracked Concrete
posted 5/12/15

Simpson Strong-Tie Donates $10,000 for Nepal Earthquake Relief
posted 5/7/15

New Strong-Wall® Bracing Selector Web App Makes it Easier to Specify Equivalent Strong-Wall Shearwall Solutions for Wall Bracing
posted 4/20/15

Simpson Strong-Tie Sponsors The Tech Challenge 2015
posted 4/15/15

New DTT1Z Deck Tension Tie Addresses New Code Provision and Offers Method for Attaching Decks to Homes
posted 3/16/15

New Bridging Connector Offers Lower-Cost Option for CFS Stud Construction
posted 3/2/15

Simpson Strong-Tie® Strong-Wall® SB Shearwall Named to Retrofit Magazine's List of Top 50 Products
posted 2/11/15

Simpson Strong-Tie Hosts 60 Local Middle- and High-School Girls in GAINS Program
posted 2/5/15

Simpson Strong-Tie Exhibit at World of Concrete to Feature Timed Product Installation Challenges and New Product Demonstrations
posted 1/27/15

New Deck-Drive™ DCU Composite Screw Versatile for All Types of Composite Decking
posted 1/14/15

New Simpson Strong-Tie® Fasteners and Lateral Systems to be Featured at 2015 Builders' Show
posted 1/8/15

Simpson Strong-Tie Wins Two Construction Marketing STAR Awards
posted 12/19/14

New RPBZ Retrofit Post Base Simplifies Post Reinforcement
posted 12/16/14

Simpson Strong-Tie Wins Do it Best Corp. Vendor of the Year in Building Materials Products Category for Fourth Consecutive Year
posted 12/5/14

New Simpson Strong-Tie Fastener Provides Installers a Faster, Easier and Safer Solution for Pile Construction in Coastal Areas
posted 12/3/14

New Post Caps Designed to Offer More Versatility, Easier Installation
posted 11/24/14

New Code Report for Blue Banger Hanger® Cast-In-Place, Internally Threaded Inserts in Cracked and Uncracked Concrete
posted 11/20/14

Simpson Strong-Tie hits $2 million milestone in donations to Habitat for Humanity
posted 10/29/14

Simpson Strong-Tie® CPTZ Concealed Post Base Named to
This Old House
List of Top 100 Best New Home Products of 2014
posted 10/27/14

Seismic Retrofits Now Provide Earthquake Protection Later
posted 10/14/14

Simpson Strong-Tie to Showcase New Fasteners and Deck Safety Demo at the Remodeling Show and DeckExpo
posted 10/9/14

New Facebook "Power Break" Campaign Features Prize Pack for Construction Industry Professionals
posted 10/7/14

New Steel Deck Diaphragm Web App makes it Easier for Engineers to Design and Evaluate Fastener Solutions for Shear and Uplift Loads
posted 8/19/14

New Simpson Strong-Tie Web App Makes It Easier and Faster to Find the Right Joist Hanger for Each Project
posted 8/5/14

Simpson Strong-Tie Receives David Weekley Homes' Coveted "Partners of Choice" Award for 10th Consecutive Year
posted 8/4/14

Strong Frame® Special Moment Frame Wins Innovation Award, Featured at PCBC Show
posted 6/24/14

New Do-It-Yourself Hardware Kit Makes It Easy to Create Professional-Quality, Customized Home Improvement Projects
posted 6/5/14

SEAOSC Honors Jeff Ellis with "Engineer of the Year" Award
posted 6/5/14

Solar Decathlon Europe Team Builds Multifamily Building with Simpson Strong-Tie® Fasteners
posted 6/3/14

Cold-Formed Steel Structural Building Products Now Included in Software Database Geared Toward Drywall Contractors
posted 5/28/14

Simpson Strong-Tie Introduces New Naming and Product Series to Simplify Fastener Selection
posted 5/21/14

New Post Base Simplifies Installation When Pouring Porch Slabs
posted 5/20/14

Simpson Strong-Tie to Donate $10,000 to Support Tornado Relief Efforts in the South and Midwest
posted 5/5/14

New CFS Designer™ Software Offers Automated Tools and Versatility for Cold-Formed Steel Design
posted 5/5/14

New Strong-Drive® XL Large-Head Metal Screw Makes Fastening Steel Decks Easier, More Efficient
posted 4/22/14

'Built in America' TV Show to Feature Simpson Strong-Tie on April 27
posted 4/18/14

New Hangers Install Over Two Layers of Drywall
posted 4/11/14

New Fully Tested Utility Clip Connectors Offer Versatile, Efficient Installation for Cold-Formed Steel Construction
posted 3/20/14

Simpson Strong-Tie Announces New President and COO
posted 3/18/14

Simpson Strong-Tie Named Vendor Partner by ACDI
posted 2/26/14

New Simpson Strong-Tie Video Highlights Industry-First Testing of FX-70® Structural Repair and Protection System
posted 2/18/14

Simpson Strong-Tie is First Sustaining Organization Member of ASCE Structural Engineering Institute
posted 1/6/14

Simpson Strong-Tie® Exhibit at World of Concrete to Feature Anchoring Products and Repair, Protection & Strengthening Systems
posted 1/2/14

Simpson Strong-Tie Named Sphere 1 Primary/Core Preferred Supplier for Concrete Repair, Protection and Strengthening Products
posted 12/18/13

Simpson Strong-Tie Launches Expanded Literature Library Mobile App
posted 11/20/13

Simpson Strong-Tie Donates $50,000 to Support Philippines Recovery
posted 11/18/13

Simpson Strong-Tie Wins
Architectural Products
' Innovation Award For Strong Frame® Special Moment Frame
posted 11/14/13

Simpson Strong-Tie Supports Habitat For Humanity's Carter Work Project with Jimmy and Rosalynn Carter
posted 11/6/13

Do it Best Awards Simpson Strong-Tie Vendor of the Year in Building Materials Products Category
posted 11/4/13

Simpson Strong-Tie Supports Toronto-Based Hardcore Renos' Build A Home Project with Product Donation
posted 10/30/13

THIS OLD HOUSE Jersey Shore Series Features Simpson Strong-Tie
posted 10/24/13

Simpson Strong-Tie Supports Our American Made Home Project
posted 10/22/13

Simpson Strong-Tie Wins Platinum Award for Best Corporate Blog in Hanley Wood's First Annual Brand Builder Awards
posted 10/18/13

Simpson Strong-Tie Donates More Than $10,000 in Connector and Fastener Products to Solar Decathlon Collegiate Teams
posted 10/10/13

Simpson Strong-Tie Donates $10,000 to Support Colorado Flood Relief
posted 10/9/13

Simpson Strong-Tie® Exhibit at DeckExpo to Showcase New Products, Deck Safety Demo and Fastener Installation Contest
posted 10/8/13

"Buildings At Risk" Summit Brings Stakeholders Together To Mitigate Earthquake Damage
posted 9/30/13

New Field-Trimmable Strong-Wall® SB Shearwall Offers Greater Design Flexibility and Lateral-Force Resistance
posted 9/16/13

Simpson Strong-Tie Continues to Expand Its Technology Offering with New and Updated Web and Mobile Apps and Online Calculators
posted 8/29/13

Simpson Strong-Tie Sponsors Final Phase of Cold-Formed Steel Seismic Tests
posted 8/22/13

Simpson Strong-Tie Employee Jorge Ruiz Introduces President Obama for "A Better Bargain for the Middle Class" Tour
posted 8/20/13

Researchers Test Simpson Strong-Tie® Strong Frame® Special Moment Frame to Validate Seismic Retrofit Solutions for Soft-Story Buildings
posted 8/12/13