Strong-Wall® shearwalls are alternatives to the wider, braced walls required by the International Residential Code (IRC) and International Building Code (IBC) model building codes. Utilized as alternate means of meeting the intent of these codes, Strong-Wall shearwalls are narrower, code-listed walls that help Designers avoid the need for wider, site-built walls and/or engineered solutions.

The wall-bracing provisions in the 2009 IRC and 2012 IRC have been revised significantly from previous versions of the code. To determine the amount of bracing required in any given wall line you have had to complete a series of difficult and time-consuming calculations. Now, Simpson Strong-Tie has simplified this process by developing a tool that does these calculations for you.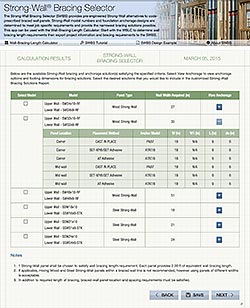 The Strong-Wall Bracing Selector (SWBS) provides pre-engineered Strong-Wall alternatives to code-prescribed braced wall panels. Strong-Wall model numbers and foundation anchorage designs are determined to meet job specific requirements and provide the narrowest bracing solutions possible. This app can be used with the Wall-Bracing-Length Calculator: Start with the WBLC to determine wall bracing length requirements then export project information and bracing requirements to the SWBS.